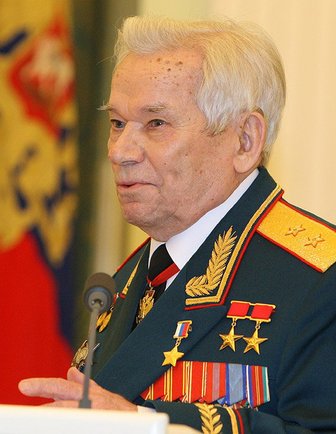 The Boker Kalashnikov Knife Line is named after the famed Lieutenant General Mikhail Timofeyevich Kalashnikov, inventor of the AK-47 (Automatic Kalashnikov model 1947) and the AKM (Automatic Kalashnikov Modernized).  While recovering from an illness in 1941 in an army hospital, Senior Sergeant Tank Commander Mikhail Kalashnikov  overheard fellow soldiers complaining about Soviet rifles. The Avtomat Kalashnikov Model 1947 was the end result  to those complaints. In 1944 he designed a gas-operated carbine for the new 7.62x39mm cartridge which lost out to the new Simonov carbine. Kalashnikov's carbine became the basis of his entry for an assault rifle competition in 1947. His winning entry, the Mikhtim, became the prototype for what was to become the AK-47.
The legacy or sometimes infamy of his rifles has prompted him to say: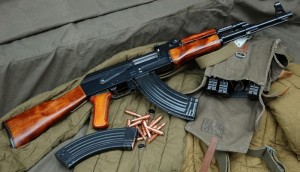 "When I see Bin Laden with his AK-47, I got nervous. But what can I do, terrorists aren't fools: they too chose the most reliable guns." "I'm proud of my 

invention

, but I'm sad that it is used by 

terrorists

," he said on a visit to Germany, adding: "I would prefer to have invented a machine that people could use and that would help 

farmers

 with their work — for example a 

lawn mower

." (

Kalashnikov: 'I wish I'd made a lawnmower'

, The Guardian, 30 July 2002)
In the early 2000′s, Marken Marketing International (MMI) partnered with Kalashnikov to begin marketing goods (umbrellas, aftershave, watches, knives) under his name.
You can find the Kalashnikov knife as a fixed blade, folding knife or as a side opening automatic knife.